By Lorri Drumm, Meadville Tribune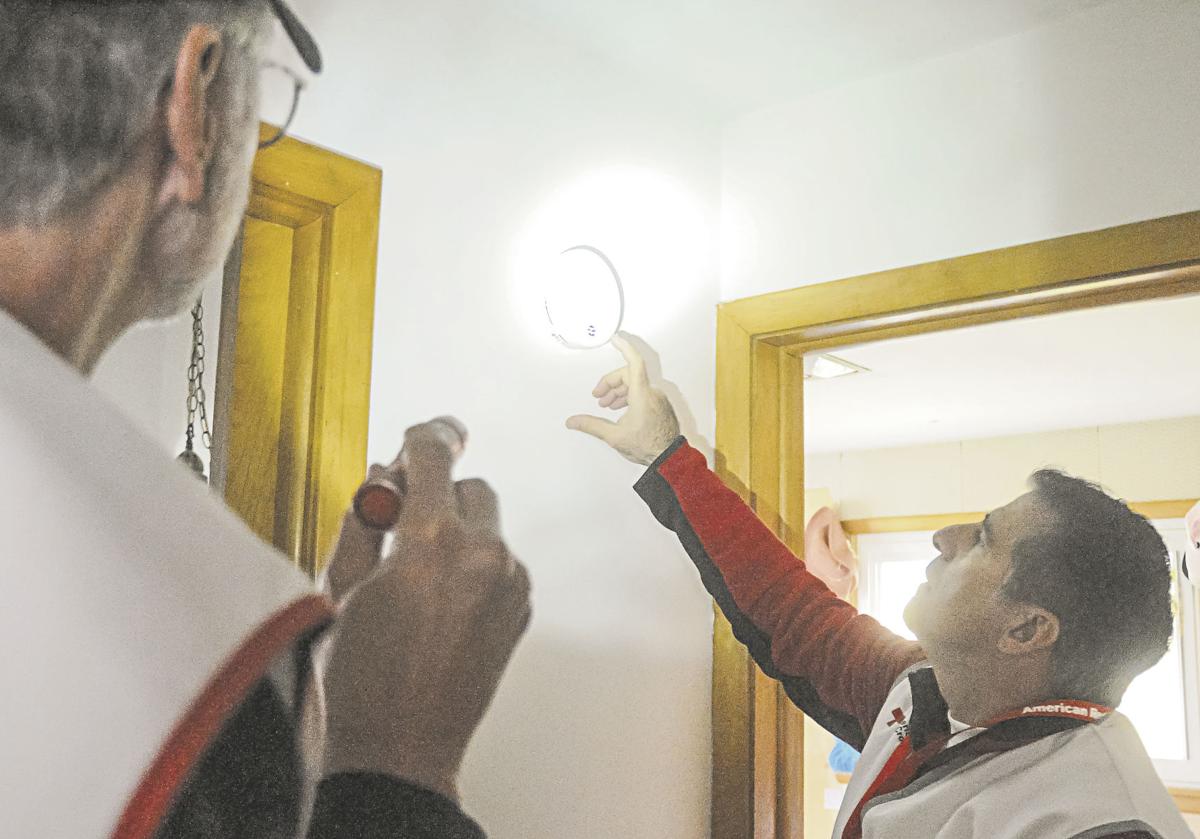 If a fire broke out in your home, are you confident that a smoke detector would wake you and your family up in time to escape? Does your family have an escape plan if you heard the beeping of a smoke alarm?
Meadville residents with any concerns about the level of fire safety in their home can take advantage of a free program on Saturday sponsored by the Red Cross.
The American Red Cross Home Fire Campaign will be held in Meadville Saturday from 9 a.m. to 3 p.m. Groups of Red Cross staff and community volunteers will visit city residents to install free smoke alarms if needed, replace alarms older than 10 years and replace batteries in newer smoke alarms. They will also offer free, in-home fire safety checks and help homeowners develop fire escape plans.
 Residents interested in taking advantage of the free fire safety program on Saturday need to call the Smoke Installation Hotline at (814) 240-7667 to register. While there is a limit to how many homes the groups can visit on Saturday, if the need for more visits to more homes arises the Red Cross will set up appointments for everyone who calls, according to Pam Masi, executive director of the American Red Cross of Northwestern Pennsylvania.
"Installing smoke alarms cuts the risk of someone dying from a home fire in half, so we're joining with groups from across our community to install smoke alarms," Masi said. "We will also be teaching people how to be safe from home fire."
Working smoke alarms double  a person's chance of surviving a home fire, according to Meadville Central Fire Chief Evan Hasko.
"While smoke alarms will not prevent fires, they do give residents a chance to get out of their homes safely and call 911 for assistance," Hasko said.
The Red Cross has partnered with the Meadville Central Fire Department and volunteers from Acutec Precision Machining, Meadville Lions Club, Meadville Medical Center and Meadville Rotary Club for Saturday's campaign.
Meadville Lions Club Secretary Scott Ladner expects at least eight club members to volunteer during Saturday's campaign. The Lions Club got involved in the campaign when members heard about it at during a community health fair.
"We met a fellow from the Red Cross at a health fair in Springboro last March," Ladner said. "He asked if we'd be willing to help at the campaign. We were glad to help. The Lions Club has been helping in many ways throughout the community since 1924."
The last time Masi visited Crawford County for a one-day fire campaign rally was November 2015 in Saegertown. It was the first time the "rally model" had been used in the area, according to Masi. In the rally model, a group of volunteers spend the day going door-to-door in a community, offering to share information about fire safety and install free smoke detectors or test existing ones.
While Red Cross staff and community volunteers did not install all 400 of the new smoke detectors they brought to the Saegertown rally, Masi said the event raised awareness and was very successful for the first event of its kind in this area. "We hope lots of Meadville residents will take advantage of the free program," she said.
 Since many smoke detectors can cost from $30 to $50, Masi said installing new detectors throughout a home can be expensive. "It could add up to $150 or more," she said. "That could be the grocery bill for some people."
Saturday's campaign will focus on helping residents within the city limits, but Masi is looking to expand the rallies to other townships and communities in Crawford County. "We are looking to develop partnerships with fire departments in all of the local communities so we can provide the ongoing installations to assure the safety of each family in need," she said. "We encourage all residents who are in need of life-saving smoke alarms to call and we will get those programs up and running where the need resides."
Lorri Drumm can be reached at 724-6370 or by email at lorrid@meadvilletribune.com.